Our offer includes implantable ophthalmic medical devices (intraocular implants, etc.), diagnostic devices (e.g. topographer, aberrometer, etc.), as well as products for the general public (food supplements, cosmetics).
HTM Exclusive Masks and Serum
We have been partnering with skin specialists, dermatologists and plastic surgeons in our aesthetic medical laser centres on a daily basis since 2007.
HTM Exclusive cosmetic products are the result of this collaborative effort and give consumers access to professional products on a daily basis.
Browse the dedicated site www.htmexclusive.com
HTM Exclusive cosmetics are available from the online store, SelectionSante.com
The Booster Hydration Mask
This BOOSTER HYDRATION treatment is specially designed for dehydrated skin, and is a source of moisture and freshness for thirsty skin. It forms a highly moisturising protective layer and its delayed effect hydrates the skin throughout the day.
It is perfect for dermasurgical laser postoperative care.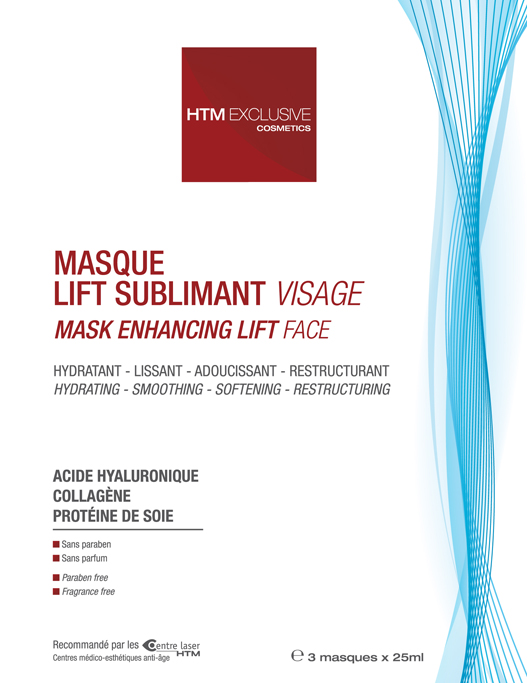 The active ingredients of the ENHANCING LIFT mask improve skin moisture, leave the skin supple and soft to the touch, and give it firmness and elasticity.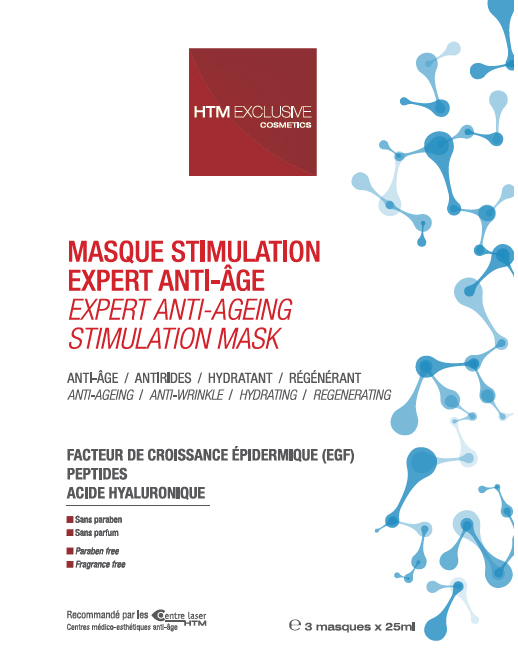 The Expert Anti-Ageing Stimulation Mask
Thanks to its powerful active ingredients, the Expert anti-ageing stimulation mask plumps and firms up the skin to reduce existing wrinkles.
The epidermal growth factor, a powerful cell activator, erases the signs of ageing by stimulating collagen and elastin production.
Associated with powerful anti-wrinkle agents, that help remove muscle tension in the same way as botulinum toxin formulations, the EGF- and peptide-based mask is a true anti-ageing treatment
The Expert Anti-Ageing Stimulation Serum
Made with epidermal growth factors (EGF) and peptides, targets skin ageing symptoms and reduces wrinkles and the signs of age. EGF is a key ingredient that is present in the skin but decreases with age.
When used routinely, the serum improves the skin's appearance and health while stimulating collagen and elastin production. Peptides round off the anti-wrinkle action by soothing and easing tension in the skin.